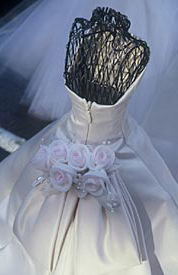 Wedding season is indeed upon us, writes Shiny Shiny's Susi Weaser, as judged by the sudden changing of Facebook status' from 'Engaged' to 'Married' by random people I went to school with. At Shiny Shiny, we've caught a touch of the love bug, in a purely gadgety way, you understand. And not one mention of Jodie Marsh, and Who Will Take Her Up The Aisle. Oh. Oops.
Dump: the DJ
Replace with: an iPod
Why risk the DJ interpreting your statement "I hate seventies classics" as "Please play Hotel California on a loop"? People are increasingly dumping the traditional DJ for a playlist they've personally put together on their iPod. It's cheaper, more reliable, and frankly, more attractive. What's not to like?
Dump: The professional photographer
Replace with: the photo printer
Digital cameras have turned everyone into an amateur photographer, as we're no longer worried about running out of film. Sticking a couple of cheap photo printers in the reception means that people can print out their photos practically instantaneously, and either take them home as wedding gifts, or donate them to the wedding album. We'd suggest keeping a professional on hand for the pre-reception photos, though.

Dump: Paper wedding invites
Replace with: E-invites
A few years ago when I was a blighter, email thank you letters were looked upon with horror in our family. The theory went that if you were just cutting and pasting a name into the address bar, followed by a generic 'thank you for my gift' message, you weren't *truly* thankful. Nowadays, there's a new emphasis on saving resources, and paper counts. Whilst no one has suggested that you force your great aunt to invest in a Mac and a hotmail address for the purposes of receiving a wedding invite, well designed email invites can be a great alternative for a lot of guests.
Dump: Keeping your thoughts to yourself
Replace with: A wedding blog
There are approximately 9 million blogs created every millisecond or something, and a significant proportion of these are wedding blogs, I'm sure. It's important to distinguish between the two types, though. The first type allows you to keep guests up-to-date on the plans, and share the mounting excitement. The second provides you with somewhere to blow off steam about how difficult your guests are being, and how it's not your fault that your cousin has slept with every man at the wedding, and is therefore impossible to fit in the table plan. Don't get them confused.
Dump: The store wedding list
Replace with: The online wedding list
When I watch crappy romantic comedies, the brides are always defined by their choice of store for their wedding list. Not being American, I can't appreciate the difference between Barney's and Macy's but I'm sure it's huge. Now, there's no need to be tied down to just one store, since there are numerous services online which will collate your lists from everyone, making sure your guests can get your everything from a teamaker to a holiday.